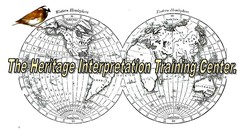 Heritage Interpretation Training Center
Climate Crisis Resource Center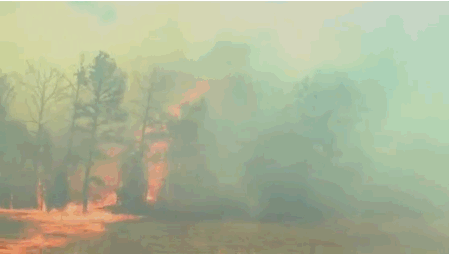 For years we were told, and warned, that if we didn't make a lot of changes to our use of fossil fuels, or destroying rainforests and other negative land uses, that the climate would be affected, change and those changes would be very bad for us. And it is - from droughts and fires in California, to floods in the east and south, extreme weather changes we are experiencing now, and continued loss of rainforests - the lungs of the planet. So today - glaciers are melting - sea levels are rising, and even the Artic Tundra is on fire!

We did this, so now what do we do to keep it from getting worse? A new report on the climate prepared by scientists from the UN recently stated:


A Hotter Future Is Certain, UN Climate
Panel Warns. But How Hot Is Up to Us.

Some devastating impacts of global warming are now unavoidable, a major new scientific report finds. But there is still a short window to stop things from getting even worse.


But that's only the beginning, according to the report, issued on Monday (Aug 9th 2021) by the Intergovernmental Panel on Climate Change, a body of scientists convened by the United Nations. Even if nations started sharply cutting emissions today, total global warming is likely to rise around 1.5 degrees Celsius within the next two decades, a hotter future that is now essentially locked in.

The Heritage Interpretation Training Center - Climate Crisis Resource Center

Having spent 40 years as a heritage interpreter, and aware of climate warnings over those years, I believe that it's important for heritage interpreters to develop interpretive programs, self-guiding experiences in parks or heritage areas, interpretive exhibits in museums or visitor centers, wayside exhibits, web site pages and more to interpret to their visitors, communities or regions, just what is happening with climate change and what, if anything we can do to keep it from getting worse.

As a note - the Climate Crisis is EVERYWHERE - North America, Europe, Indonesia, China ... everywhere!

To help interpreters and educators develop and offer climate change/crisis programs and media, the HITC with InterpNEWS, has been developing a large number of Climate Change/Crisis Resource Publications listed below.

All of these InterpNEWS Special Issues are available as PDF's and can be sent to you FREE - sent as attachments to your e-mail address. Send me an e-mail (jvainterp@aol.com) to let me know which issue(s) you would like. Each issue has about 90-100 pages of diverse articles, with many on specific climate crisis topics such as drought, heat or flooding.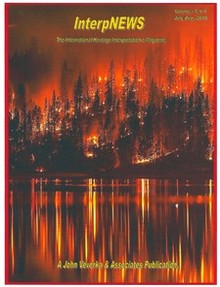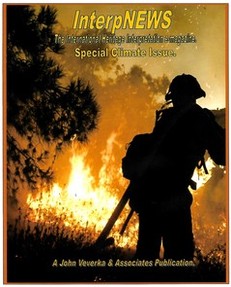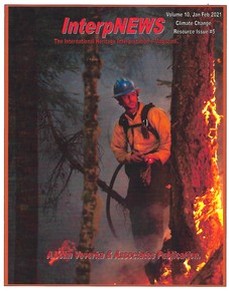 InterpNEWS - 2018 - 2019 and 2021 Special Climate Issues (CA fires and Misc. climate change articles).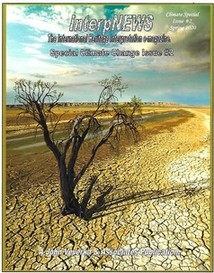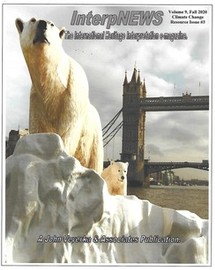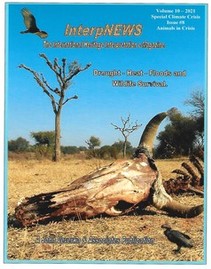 Special Climate Issue - Spring 2020 (left) - Special Climate Issue Fall 2020, and Special Issue 2021 -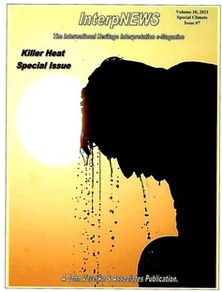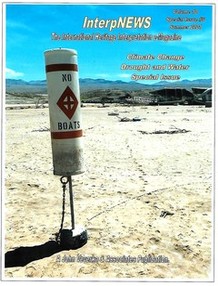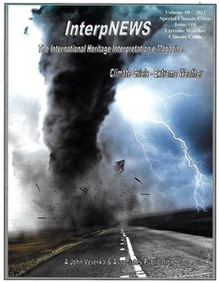 Special Issue 2021 - Heat, Special Climate Issue - 2021 - Drought, Special Issue 2021 - Extreme Weather.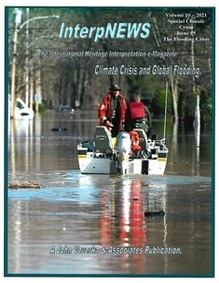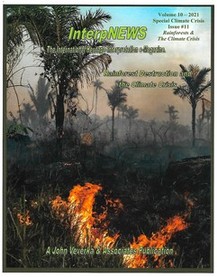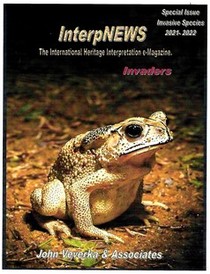 Climate Crisis 2021 - Flooding Issue - Climate Crisis - Rainforests, and as the climate changes -
welcome new invasive species to replace native species who couldn't adapt to a changing climate.



Heritage Interpretation Training Center - Climate Change/Crisis
Interpreter Training Courses.


The HITC currently offers two different courses in how to "Interpret Climate Change to Others".


New Course on Climate Change Interpretation - 2023
http://www.heritageinterp.com/climate_change_interpretation_course.html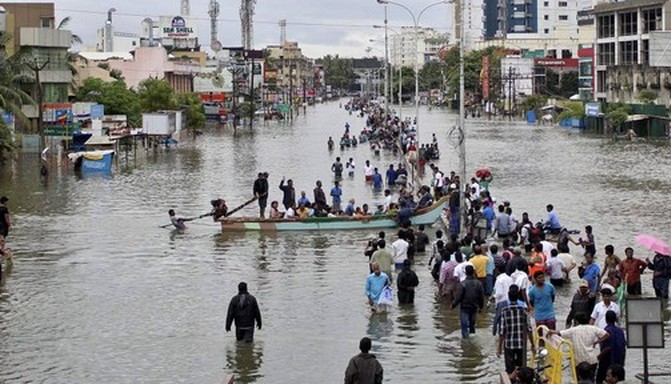 Interpretive Planning for Programs,Exhibits, Panels and Related Services
To Help You Interpret Climate Change and Global Warming
Issues to Your Audiences, Communities and Regions.


The course includes a large collection of InterpNEWS special climate issues and a copy of our Interpretive Master Planning textbook. As an e-live course you also have access to coach Prof. John Veverka via SKYPE, e-Mail or Phone.

13 Units, 4 CEU's
$250.00



----------------------------------------------------------

Interpretaive Master Planning for Climate Change
http://www.heritageinterp.com/interpretaive_planning_for_climate_change.html

Updating or Creating New Park/Heritage Site Interpretive Master Plans
To Focus on Site Climate Changes Visible Impact to your
specific park, natural area, heritage site or communty.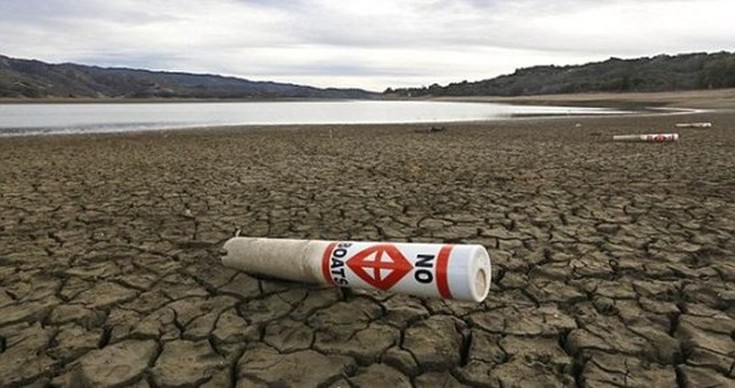 Folson Lake, California - The lake disappeared right before our eyes. Drought 2021.

Thus, today's interpretive plans for sites may need to interpret to visitors such issues as:


- Impact of drought (reservoirs being low or "out of water" on communities, agriculture).
- Impact of drought on recreation (no water for boating, fishing, swimming).
- Impact of drought on electricity (reduced hydro power from dams).
- Water for migratory birds being reduced or eliminated.
- Impacts on local forests, prairies, grasslands, etc.
- Increased risks of fires,
- Mitigation and preparation for hurricanes or dangerous weather.
- Affects of hurricanes/tropical storms on habitats and ecosystems.


Course tuition: $200.00 USD. Tuition can be paid via PayPal or Credit Card by clicking the PayNow button below. We will be notified of your payment received and get you started with the course right away. JV




----------------------------------------------

John Veverka Associates - Climate Interpretation
Consultation/Planning and Design Services.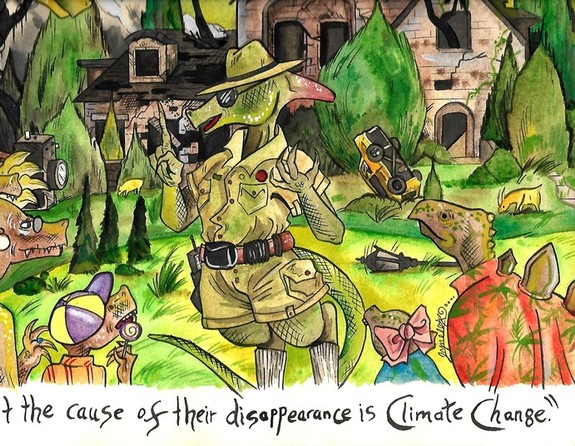 - Interpretive Master Planning
Interpretive Panels and Wayside Exhibits
Interpretive Trails and Self-guiding Tours
Interpretive Staff Training Seminars
Museum Exhibit Planning
Zoom Training Sessions and Workshops

If It's Interpretive ... Ya - we do that :)

John Veverka & Associates
www.heritageinterp.com
jvainterp@aol.com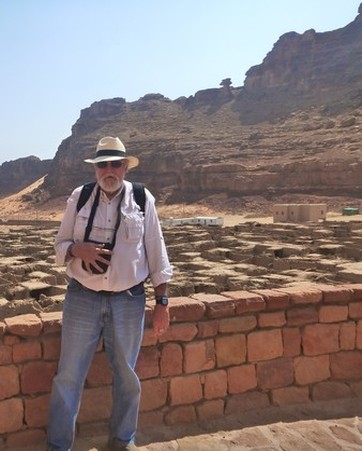 John V. working at Al Ula - Saudi Arabia 2019

Prof. John Veverka (John)
Director, HITC
Publisher - InterpNEWS
JVA Heritage Consltant
jvainterp@aol.com