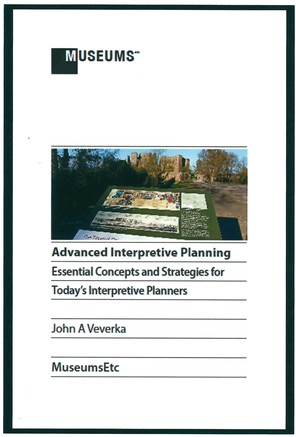 http://museumsetc.com/products/advanced-interpretive-planning

Our new textbook on Advanced Interpretive Plannning has been released and available and we're really excited about it. It contains lots of new strategies and ideas for interpretive planners world-wide. Chapter contents are shown below.

MuseumsETC is the publisher of John's other three interpretive text books (Interpretive Master Planning Volume 1 and Volume 2, and The Interpretive Trainers Handbook) .




Advanced Interpretive Master Planning


General Book Table of Contents


Introduction: When is "interpretation" not interpretation?

1. A Model for Interpretive Planning
Objectives
Creating an Inventory of Resources
Implementation and Operation
Evaluation
Outline of an Interpretive Plan
The Benefits of Interpretive Planning

2. Informal Visitor Contact and Outreach
Developing Policies
Guidelines for Approaching Visitors
Outreach Programs
Working with Volunteers
Useful Forms and Checklists

3. Financial Planning for Interpretive Planning
What is Financial Success?
Feasibility Analysis for New Facilities
Visitor Analysis for New Facilities
Overhead and Operations Costs for New Facilities

4. Planning for Experiences and Markets of One
Visitor Experience and Outcomes
The Types of Visitor Experience
Mass Customization and Interpretive Planning
The Quest for Outcomes

5. Regional Interpretive Systems Planning
What is a Systems Approach?
Preparing an Interpretive Systems Plan
Media Inventory and Analysis
Developing New Products and Services

6. The Landscape - The Museum Without Walls
What is a Landscape Museum?
The Museum, the Galleries, and the Exhibits
Planning a Landscape Museum

7. Creating Effective Interpretive Writing
The Principles of Interpretive Writing
Tangibles, Intangibles and Universal Concepts
Writing for Feeling and Imagination
Ten Tips for Hiring an Interpretive Writer

8. Marketing Plans and Interpretive Planning Strategies
Marketing and the Visitor
Understanding your Audience
Generating New Market Groups
Marketing Planning for Heritage Attractions

9. Training and Coaching Interpretive Staff
Planning for Training
Course and Session Objectives and Outcomes
Critiquing and Coaching Interpreters
Nineteen Steps to Successful Critiquing

10. Evaluating Interpretive Programs and Services
Methods of Evaluation
Case Study Summary
Self-Evaluation Survey
Assumptive Evaluation Form
Visitor Center Assessment Form
Individual Exhibit Design Critique Form

For more information on my Advanced Interpretation course check out the course website page:

http://www.heritageinterp.com/advanced_interpretive_planning.html