Interpretive Writing
that is actually "interpretive"!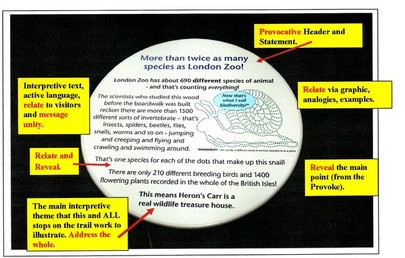 At JVA interpretive writing is a basic part of all our products and training courses. We also develop interpretation/interpretive writing to help accomplish management objectives as well. We provide interpretive writing for:

- Interpretive Panels
- Management issues
- Museum Exhibits
- Interpretive tour guide publications
- AV interpretive scripts.
- Interpretive training manuals and workbooks.

We also offer Interpretive writing workshops and training courses world-wide.

John V. has taught interpretive writing for over 40 years. As part of his university interpretive courses at Ohio State University and Michigan State University the students in his interpretive courses had interpretive writing assignments and had to create (for grades) various interpretive writing products. John has also contributed interpretive writing sections to several interpretive text books.

Our writing is based on Tilden's Interpretive Principles. Here is a writing example from one stop on a self-guiding historic community walking tour. Provoke, relate, reveal.

The Jackson Clubs Dark Secret.

In 1842, this was the location of the Jackson Club, a club, for Men Only! This was the place where the elite of Jackson came to do business, visit, and talk about the news of the times. And becoming a member wasn't easy - you had to be somebody important!

Mike Sommerville was somebody! Arriving in Jackson in 1843, he quickly developed a reputation as a powerful businessman, and was invited to become a member of the Jackson Club. Mike served two terms as club president, and even helped increase the membership of this Men's only organization. A proud member for 25 years, it wasn't until Mike's death in 1869 that it was discovered --------- that Mike was really … Michelle - Yep! A Woman! And now you know the Jackson Clubs dark secret.

Your next stop on the tour is just one block down this street on the right, a large white home, number 321. It looks like an ordinary home, but there's an extraordinary story buried in the garden. I'll meet you there with a shovel.

___________________________________________________________

Our interpretive writing is also outcome based an objective based. We look not only at the copy, but its relationship to the graphic and media and what the media "package" objectives (learn, feel, do) are. Can you guess the objectives of this panel?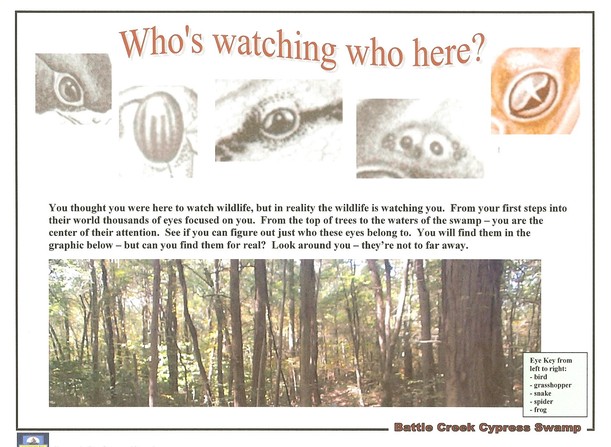 If you would like to know more about JVA Interpretive Writing Services and see more writing samples send me an e-mail and I will send you a copy of our Interpretive Writing Guidelines I use in my courses. jvainterp@aol.com

We write right!.
John V.