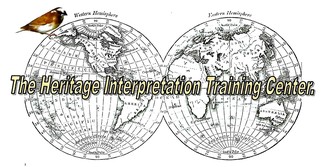 The Interpretive Exhibit Planners Toolbox
Guidelines and tools for planning and managing interpretive exhibit projects.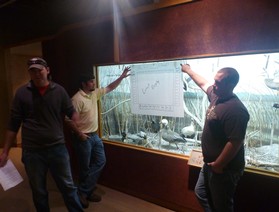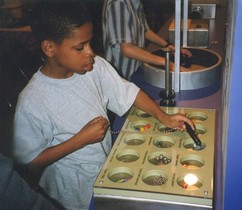 Are you ready for e-LIVE interpretive training? JVA is pleased to announce the development of our new e-LIVE interpretive training course developed and offered by Professor John Veverka.

This is a University level course on guidelines and tools for planning and managing interpretive exhibit projects for parks, museums, historic sites, zoos, botanical gardens and related interpretive sites for interpretive staff, managers/heads of education, charged with developing or evaluating their interpretive exhibits, or for exhibit design consultants who have have no formal training in interpretive communications.

Each participant will receive an e-book copy of John Veverkas text books: Interpretive Master Planning, Volume I and Volume II, as well as other support materials and resources.

Who is this course for:

- Any individual being assigned to provide/develop and deliver an interpretive exhibit project (from one
exhibit to one gallery to a total interpretive center exhibit project).

- Individuals wanting to develop their skills in interpretive exhibit project planning and management.

- Park, Museum. zoo, botanical garden, heritage site interpretive/education staff charged with developing or
evaluating the effectiveness of their interpretive exhibits.

Course Goals: Upon completion of this course participants will:

- Understand and be able to utilize the Interpretive Exhibit Planning Outline.
- Develop their skills in developing an interpretive exhibit plan.
- Understand exhibit contracting needs - what should be in a Request for Proposal in selecting an exhibit
planning and design firm.
- Be able to conduct an exhibit interpretive communication evaluation (existing exhibits).
- Understand how to conduct a exhibit pre-post test evaluation before exhibit construction is finalized.
- Understand that exhibits need to be cost effective - i.e. for a $20k exhibit project will you be able to
document that you will receive, over the life of the exhibits, $20k in benefits?
- Be more involved and focused on the details of exhibit project management.

About the Instructor: Prof. John Veverka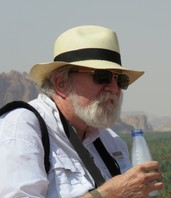 - B.S and M.S in Heritage Interpretation - The Ohio State University - teaching courses in Interpretive Master Planning.

- Ph.D. program in Interpretation at Michigan State University. Responsible for developing and teaching introductory and advanced interpretation courses (5-years university teaching).

- Adjunct Professor Heritage Interpretation (summer heritage tourism institutes) North Carolina State University, New York State University.

- NAI Certified Interpretive Planner and Trainer.

- NAI Fellow

- Certified Professional Heritage Interpreter (Canada).

- Author of several interpretive planning/training college text books.

- Publisher of InterpNEWS - the International Heritage Interpretation e-Magazine.

- 40 years of interpretive planning, training and writing experience.



What are the 11 Interpretive Exhibit Planners Toolbox Units?


Unit One - Overview of the Interpretive Exhibit Planning Process

Unit Two - Developing your exhibit objectives (for the total exhibition as well as objectives for each individual exhibit).

Unit Three - Developing your exhibit theme, sub-themes and exhibit story lineflow chart to reflect you exhibition interpretive objectives.

Unit Four - Who is your audience - what are their learning styles - audience demographics, need for multiple languages, what will local, regional and national interest be in the exhibit (exhibition) subject matter? Will your exhibit objectives "fit your audience" - can you actually accomplish your exhibition objectives for your market groups?

Unit Five - Exhibit psychology and exhibit load. (Do you know what exhibit load is?) Attraction power, holding power, engagement power - and concept understanding retention.

Unit Six - Developing your exhibition floor plan - visitor flow considerations, the relationship of one exhibit to the exhibit next to it and the exhibits behind it.

Unit Seven - With your interpretive exhibit plan done, calculating what your exhibits will cost and how long the design, fabrication and installation process will take - managerial realities. Ouch.

Unit Eight - Writing interpretive label copy for interpretive exhibits. Provoke, relate, reveal, message unity, theme support.

Unit Nine - Contracting your interpretive exhibits - what should be in your Request for Proposal - what should the qualification of an interpretive exhibit designer be anyway? RFP template is provided to get you started. Don't forget warranties !!!

Unit Ten - The usual steps in the design process: (working sketch, draft design, draft design showing artifacts, photographs, interpretive text - headers - final floor plan showing locations of type 1, type 2 and type 3 exhibits and visitor flow). Put these as requirements in your request for proposal under "scope of services". Do you want a white model ? Helpful.

Unit Eleven - Evaluation and pre-test. Exhibits can look beautiful and be "stupid" in that they don't actually accomplish your objectives. "Measure twice, cut once". Don't buy it until you know it works. We'll look at evaluating existing exhibits as well as developing evaluation pre-tests for mock-up exhibits prior to final design/fabrication. Note: Exhibits can create negative learning - we'll tell you how that happens.

As interpretive training courses are unique to different agencies and organizations, this course is, like all our courses, very flexible in helping each individual participant develop a interpretive exhibit project that reflects their mission, themes and objectives.

When will the course start? You can start this course at any time and work at your own pace. It is estimated that it will take about 20 hours to complete this course. The cost of the 20 hours of training is $200.00 USD, which can be paid for by credit card or PayPal below - click the PAY NOW button. As the course is limited to 10 participants at one time, if you would like to see if the course has current openings please contact us and we will send you te course registration form. They you can return here and pay for the course.

At the completion of the course you will receive a really nice Certificate of Completion that also notes your awarded CEU Credits.

If you have any questions at all please feel free to ask: jvainterp@aol.com

Cheers,
Prof. John Veverka
jvainterp@aol.com
Certified Interpretive Planner/Trainer
Certified Professional Heritage Interpreter
Publisher InterpNEWS
www.heritageinterp.com


<form action="https://www.paypal.com/cgi-bin/webscr" method="post" target="_top">
<input type="hidden" name="cmd" value="_s-xclick">
<input type="hidden" name="hosted_button_id" value="4JWKJJ7V8TR84">
<input type="image" src="https://www.paypalobjects.com/en_US/i/btn/btn_buynowCC_LG.gif" border="0" name="submit" alt="PayPal - The safer, easier way to pay online!">
<img alt="" border="0" src="https://www.paypalobjects.com/en_US/i/scr/pixel.gif" width="1" height="1">
</form>