InterpNEWS
The International Heritage Interpretation e-Magazine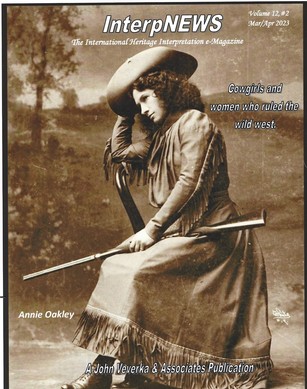 InterpNEWS Mar/April 2023 issue cover.


Advertising Details



Advertisement space reservation details:

InterpNEWS reaches over 100,000 interpreters, agencies, organizations, universities, interpretive organizations and their members, national and international tourist guides, zoos, botanical gardens, national, federal and local government agencies and related heritage sites in over 60 countries. It is published six times a year and sent to subscribers as a PDF attachment, as well as being posted as a readable document on www.issuu.com/interpnews, and posted on many agency and organization partner web sites.

We have expanded our advertising to international interpretive service providers and consultants as well as advertisers in the US and Canada. In the US/Canada market we reach over 150,000 museums, heritage sites, Federal agencies (National Park Service, US Forest Service, Bureau of Land Management, US Army Corps of Engineers, etc). We also reach zoos, aquariums, botanical gardens and related nature reserves and State, Local Nature Centers and natural areas.

To keep things simple as we evolve into offering advertising space, we currently offer three different NEW ad copy sizes and rates:

- Full page ad copy: 7" wide, 9 3/4 " high (to fit into our IN format). Cost: $200.00
- 1/2 page ad copy: 7" wide, 4 1/2" high (to fit into our IN format). Cost: $100.00
- 1/4 page ad copy: 3 1/2" wide, 4" high (to fit into our IN format): Cost $50.00

Ask about our advertising discounts for multiple ad placements - great deals.

-All ad copy to be e-mailed to us as an insertion ready jpeg in the appropriate size and inserted into our "Interpretive Marketplace Section" in InterpNEWS.

All ad copy payments are in US dollars. Ad copy can be made by Credit Card/PayPal below, or payment can be sent to:

John Veverka & Associates
jvainterp@aol.com
http://www.heritageinterp.com/interpnews.html

Any questions please feel free to contact me. John Veverka, IN publisher/Editor. jvainterp@aol.com



Full Page Advertisement $200.00

1/2 Page Advertisement: $100.00




1/4 Page Advertisement: $50.00





For multiple inclusion discounts call or e-mail for details.
jvainterp@aol.com



These new advertining rates will apply for 2020. On the left is our Jan/Feb 2020 issue cover (already over 100 pages) and on the right is our March/April issue cover shots.



If you would like to advetise in any 2020 issues please contact the IN Publisher, John Veverka for your reserviation, and send in a photo ready ad copy to jvainterp@aol.com. You can pay for your ad placement by clicking the appropriate pay now buttons above.